Bespoke CRM vs off the shelf CRM
Jun 2021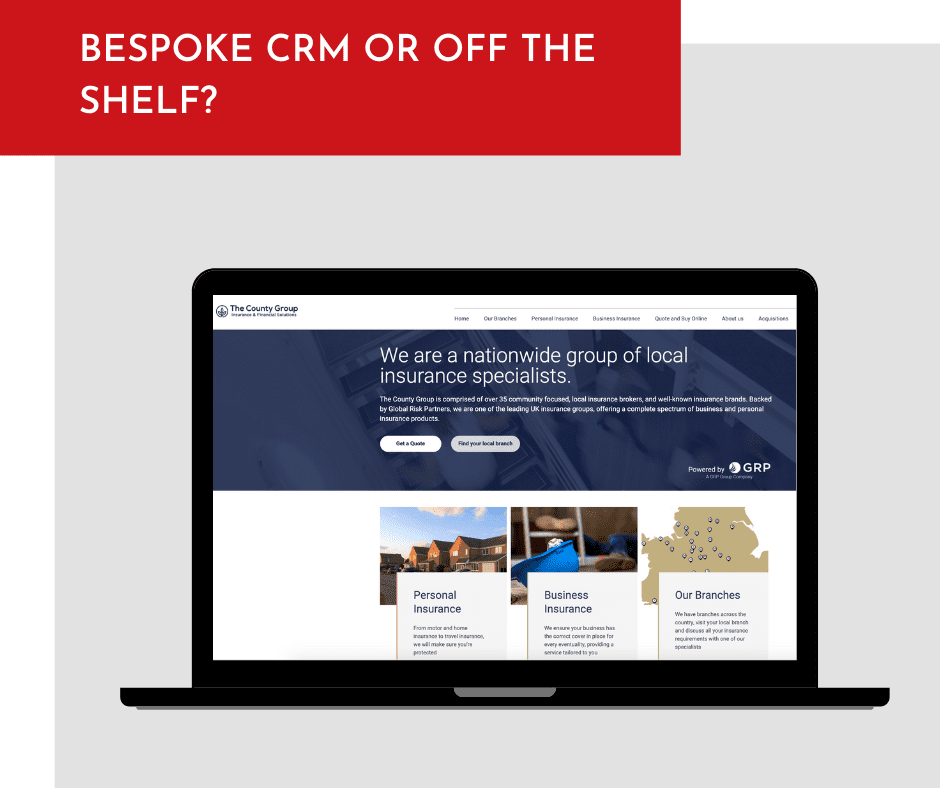 Your CRM strategy guides the 'getting to know you' and the interactions and touch points with your clients, both potential and existing. Customer relationship management is the art of knowing your customers and potential customers and maximising your relationships to grow your business and bottom line.  To implement your CRM strategy and create efficiencies, you need a CRM tool.
What can a CRM do for you?
Whether you're a small business or a large enterprise, the right CRM for your business can be a game changer. A customer relationship management system (CRM) aims to streamline sales and business processes and enable you to be smarter and more efficient in managing and growing your customer base.
The opportunities of a CRM for your business include:
Increased customer retention
Improved automation
More targeted communications and campaigns
Increase in sales team productivity
Grow customer loyalty
Track your prospects and create automated follow ups to nurture leads
Create scalability as your business grows
The benefits and opportunities are clear, but the key question is whether you choose an off-the-shelf CRM or a bespoke CRM created specifically for your business.
The benefits of an-off-the shelf CRM can include;
Being easy to install
Requires simple training
You can often get free trials to try it out
The initial cost is often low, but as you want to add on and develop over time the costs can be high.
Making sure your CRM makes IMPACT
But for any financial or time investment you make into a CRM, you want it to work for you and maximise benefits and USP to your business.  A bespoke CRM is tailored for your business and the benefits include;
Your CRM is adaptable and can change and scale as your business changes and grows
You have a team of developers who are experts in their field to create something that is going to have impact on your business
Automate processes that are going to create efficiencies in your business
Start with your business goals and develop your CRM from there, rather than fit a set system into your business
Collect every piece of data that you need to manage your relationships and sales funnels, rather than only being able to capture standard data offered by off the shelf
How Rare Earth Digital can help
We bridge the gap between businesses and technical services.
We created a bespoke CRM for top 25 UK insurance broker, The County Group. The County Group have over 300 staff across multiple offices and managing which leads were resulting into sales was becoming increasingly complex and time consuming. The County Group's expansion strategy meant that they needed to onboard and seamlessly fit other companies into their work process too. An off-the-shelf CRM wouldn't provide what they needed.
We built a bespoke customer relationship management (CRM) system which integrated with specialist insurance systems via a range of secure APIs, enabling The County Group to maximise their leads. They continue to add powerful features and improve the performance of this system, which is vital to the operation of the day-to-day business and the company's ability to scale and grow at the rate it continues to.
Time to find out what a bespoke CRM can do for your business
Rare Earth Digital create bespoke CRM's for their clients based on a clear understanding of their client's business needs. They provide a high-level of support and you'll be working with expert developers to create and support you and your needs.
Thinking about the impact a CRM could have in your business? Let's chat!
Book in your call by emailing [email protected]