We are hiring – Senior Software Developers
Aug 2021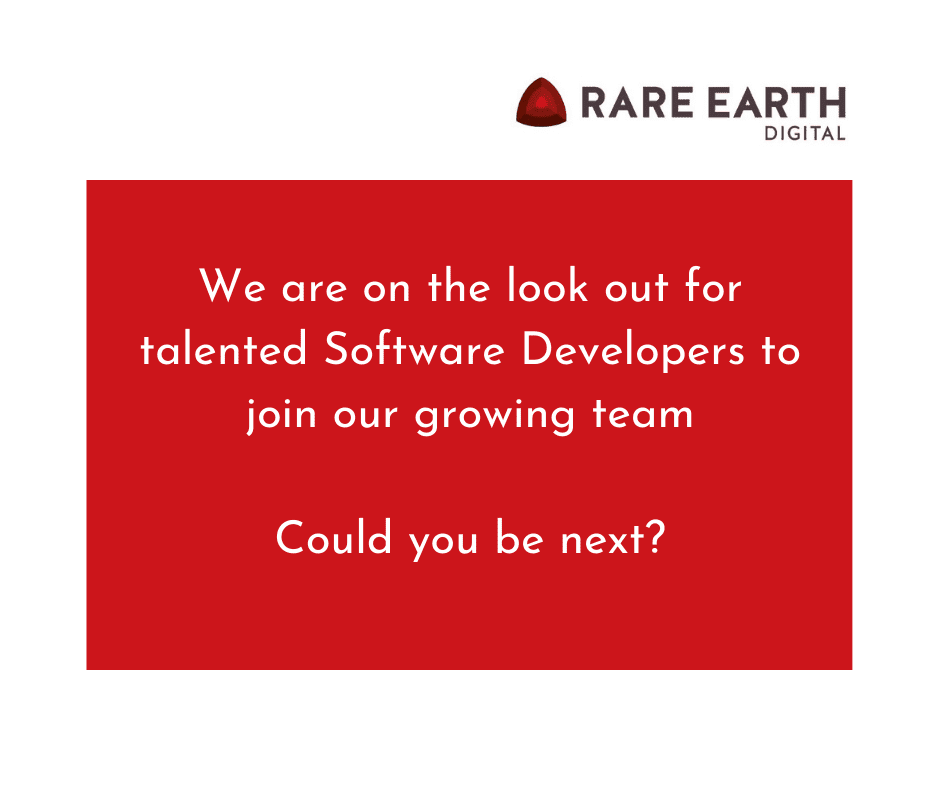 Here at Rare Earth Digital, we know that the right software can accelerate a client's business growth.
It is our mission to build and maintain software that supports this purpose. We work with clients to understand their goals and deliver software systems to help achieve this. Whether clients are looking for revenue growth, cost reduction, market share growth or compliance, we will fuel the attainment of those goals.
We work with some amazing clients on really exciting projects such as the development of a bespoke CRM system for a top 25 UK insurance broker, a custom automated inventory system and ecommerce platform for a leading provider of high-end computer equipment, through to the development of a cutting-edge online portal which securely captures data for genetic testing.
We love a challenge and our team of developers are passionate about learning and always get the opportunity to do this here at Rare Earth Digital. Our welcoming Nantwich based town centre office is a vibrant environment, all developers have access to top of the range computer equipment to enable them to full fill their work. The team are trusted and empowered to achieve their goals. There are a variety of exciting projects to work on which are technically challenging.
Don't just take it from us – here's what one of our Senior Developers said
"We have an open forum to share knowledge and skills and always support each other. We have a structured but flexible workload and you always feel appreciated!"
We are looking to hire two JavaScript/PHP Developers.
You will be part of our full-stack development team, working on a wide range of projects for a variety of clients and be involved in system development, testing and deployment.
You will be the lead developer on some projects and support other team members with their projects.
Responsibilities
Write clean, well structured, code
Develop, test and maintain core software systems and databases to ensure strong optimisation and functionality
Contribute to all phases of the development lifecycle
Use source control tools to manage code
Follow industry best practices
Respond to requests quickly and efficiently
Work with and alongside other developers within the team
Support other developers with technical help, advice or experience
Actively take on technical challenges and problem solving
Requirements
At least 2 years of software development experience in JavaScript and PHP
Demonstrable interest in and a passion for software development, and a desire to create efficient, high-performance systems
Strong knowledge of common technologies such as HTML, CSS, PHP, React, Node.js and MySQL
Good knowledge of common environments such as Unix and AWS
Good understanding of open source platforms, specifically WordPress
Good understanding of common security and performance considerations
Good written and spoken skills to communicate with other team members and project managers
Salary – very competitive £DOE
Hours – 9 – 5.30pm
Holiday – 25 days + bank holidays
Office – Town centre location with parking
If you have the skills required to fulfill this role please get in touch. Send over your CV and cover letter to [email protected]