What is gamification?
Jan 2023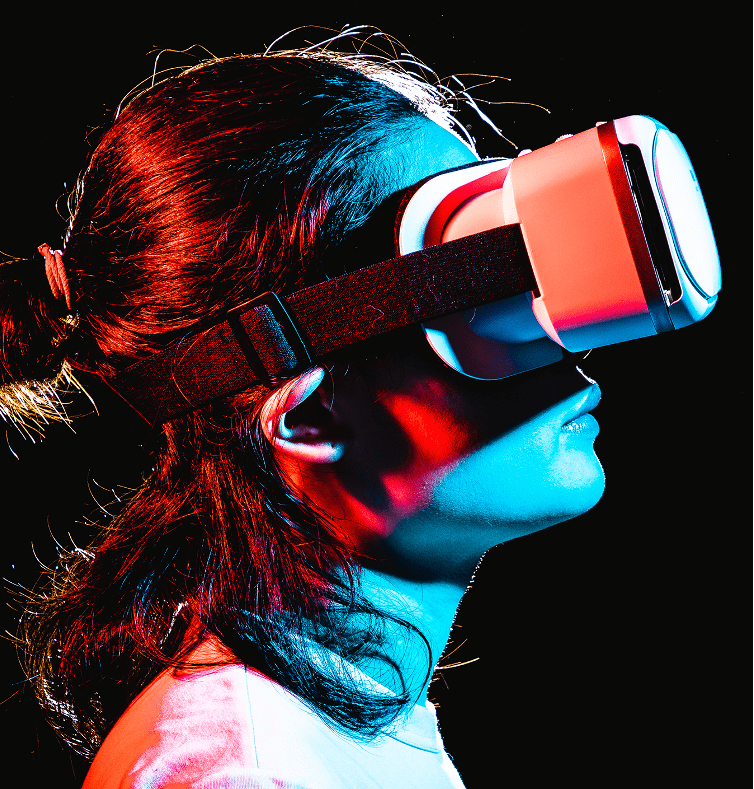 Gamification is NOT a NEW concept. There is evidence going back nearly 1000 years of it being applied to education.
It is what it sounds like – turning things into games.
The more formal definition is:-
"Applying game Mechanisms to increase user engagement, happiness, AND LOYALTY…"
There are 6 main game mechanisms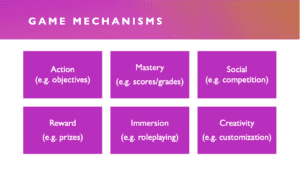 Action – most obvious – objectives and goals
Mastery – achieving a grade, level or rank
Social – from bragging on social media to friends and family, to local leaderboards and large international competitions
Reward– ranging from kudos, to exclusive merchandise, or even high-value prizes
Immersion – where the intended behavior is embedded in an actual game
Creativity – giving participants an element of control over the process, e.g. customising characters
A really good example of how gamification works is FITBIT.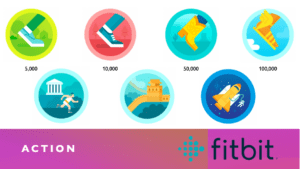 The aim is for their users to walk so many steps per day, ideally 10,000. When they have walked a certain amount of steps they get a reward, these are:-
Easy goal 5,000 steps you get a "boat shoe"
If you reach their standard goal of 10,000 steps you get a "sneaker"
The stretch goal of 50,000 in one day you get a pair of "cowboy boots"
Then the (Almost) out-of-reach goal of 100,000 steps you get the "Olympian sandal"!
But why does this work? How do rewards/games entice you to play them?
Well it's scientific. The action you take ie. walking 10,000 steps provides you with a reward, this gives you a dopamine hit. Then after a while you will get the dopamine hit from just taking the action without the reward (there's a shortcut in the brain).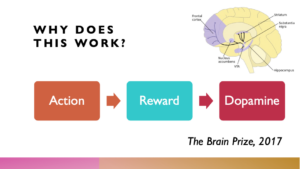 Another example where the reward process has been really successful is Starbucks. They used gamification to reward customers during low footfall times.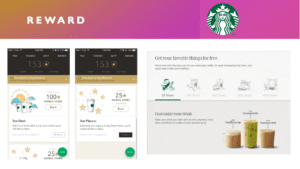 Here are some draw-dropping stats!
The Starbucks Reward Loyalty Program has a staggering 16 million active members (as of March 2019), with 11% growth of their user base in Q2 2018. Starbucks attributes 40% of its total sales to the Rewards Program and has seen same store sales rise by 7%. The Reward Program is available on mobile devices as the Starbucks app, and has seen impressive membership and growth since 2008, with multiple iterations on its original form.
The investment made into the mobile interface has increased the frequency and spend of both regular and occasional customers. Starbucks uses this tool to individually market specific products and features based on data collected from the app about its users. Customers can order and pay through the app ahead of arriving at a physical location, as well as earn stars (rewards) that translate into free drinks, food, and merchandise. Starbucks is a clear winner that has reinvented their relationship with customers and captured enormous value through their investment into digital technologies.
Another great example is NumBots a highly engaging platform for learning to add and subtract.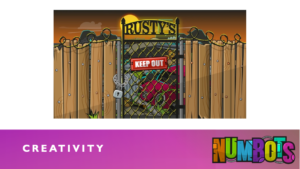 Launched in 2019 NumBots is all about every child achieving the "triple win" of understanding, recall and fluency in mental addition and subtraction so that they move from counting to calculating.
The aim is to solve as many arithmetic problems as possible correctly in a set time. If you get better scores you earn more coins. The coins unlock character customisations.
NumBots is used in over 17,000 schools, at a cost of £102.20 per school per year and a whopping 100,000 households who pay £7.20 year. There revenue is massive £2.5 m.
One of our clients Flash Masters uses gamification as part of their seasonal awards programme.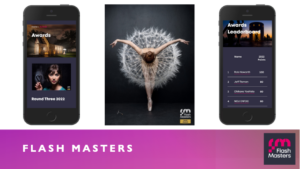 The site is a directory of photographers, who upload individual photos to win awards which can be used in portfolios.
Photographers accumulate lifetime awards, which are displayed on their profile which earns them a place on the leader board.
Photographers pay for membership and can pay extra to submit more photos.
Within two weeks of launch, they had covered a majority of the cost of development in membership fees, and continue to see rapid growth.
Here at Rare Earth Digital we love creating apps for our clients, incorporating gamification is only going to excel your business's growth.
Gamification marketing can also increase user engagement by empowering the customer to feel in charge. Users can choose how to go and exploration is encouraged by establishing a gamification campaign with a solid game design. They are more likely to appreciate the experience overall if they have some control over how they play and interact.
A fun and effective technique to introduce people to a new product you might be launching is through gamification. You can let users test out your product by creating a game that teaches them how to use it, which is similar to offering a free trial of your product.
To summarise
Gamification is the incorporation of "game mechanisms" to systems, services, organisations, or activities in a non-game context
Game Mechanisms include Action, Mastery, Social, Reward, Immersion, and Creativity
It can lead to increased engagement, loyalty, and happiness, by activating the reward centres of the brain
Gamification has been used successfully by many large corporations, including Amazon, Nissan, Starbucks and Fitbit
When implementing gamification, it is important to consider Domain, Rules, Simplicity, Challenge, Competition, Social, Progress, Reward, and how to make it Fun
Gamification aims to increase a user's motivation, engagement, and performance when performing a certain activity by combining game mechanics and themes, so making that task more appealing.
We love helping our clients create super exciting apps, if you would like to learn more about how we can help please get in touch [email protected]