Digital Debrief 20th April 2022
Apr 2022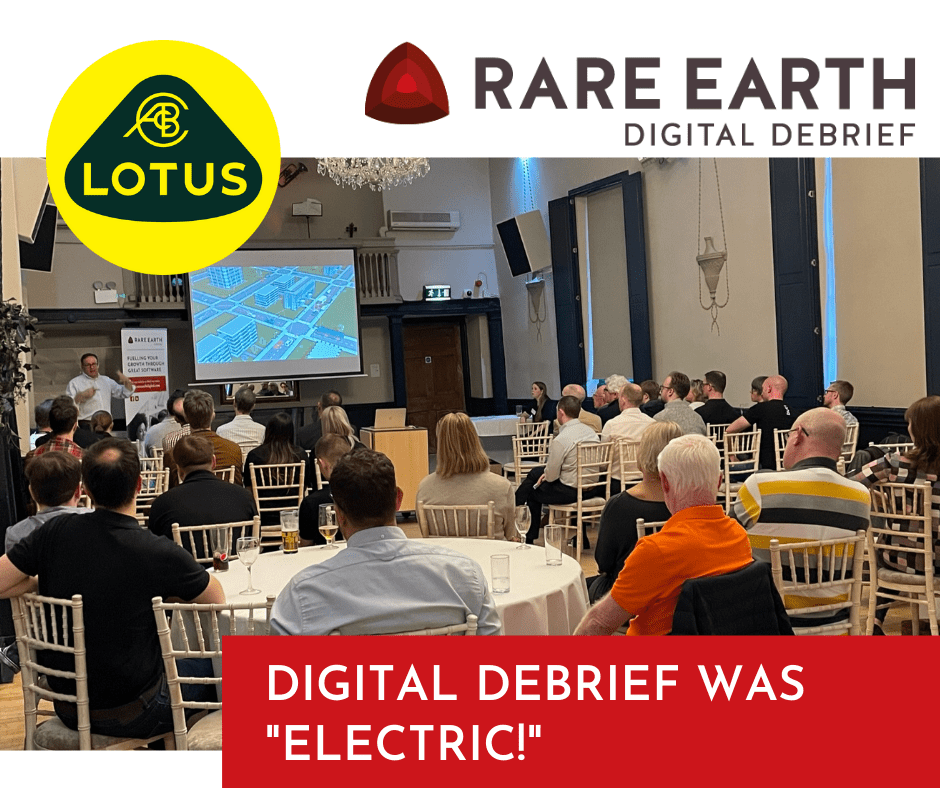 The latest Rare Earth Digital technology briefing for the people and businesses of Nantwich took place on 20th April at the town's Crown Hotel. The audience of over 50 was captivated by the future vision for motoring, and the technology underpinning it, as provided by the chief engineer from Lotus Engineering. Everybody left with a 'to do' item to decide where to put their charging point at home, and whether they should forget it and move straight to a hydrogen tank!
The next event is on 7th July and the keynote speaker will be IBM's European Head of Technology. If you would like to know more, read on, or go straight to the enrolment page at:https://rareearthdigital.com/red-debrief/
The 20th April event, A Digital Debrief, was the second in the series, set up for Nantwich by local software development company Rare Earth Digital Ltd. Designed for the technology-minded members of the local community, and like-minded business owners, Rare Earth Digital's goal is to "exchange knowledge about the application of technology in the real world. To debunk the jargon and show how the real benefit can be, and in fact already has been, obtained by the correct use of new technology"
The Digital Debrief held at the Crown Hotel ballroom in Nantwich, welcomed over 50 attendees.  The speaker was Ged Lancaster, Chief Engineer at Lotus Engineering. Ged presented on, and engaged in a lively discussion on, the evolving use of technology in private transport, how it is rapidly evolving, and how automotive manufacturers, regulators and governments are looking beyond the current electrification strategy to a paradigm shift in the fundamentals of private transport. It was quite the 'eye opener' and an object lesson in seeing the bigger picture and the necessity for a clear vision in any business in order to stay ahead of the competition.
The Digital Debrief series is FREE, and tailored for people who want to use technology to grow their business, and in addition, is a valuable networking opportunity. It will run continuously with quarterly events each featuring exceptional keynote speakers and will provide delegates with content designed to assist local businesses capitalising on the ever-changing world of technology.
The next event is on 7th July, with keynote speaker Rashik Parmar MBE, IBM Fellow and Vice President of Technology for Europe, Middle East and Africa. Rashik will present on the digitisation of business.
Please register at https://rareearthdigital.com/red-debrief/  and join the audience who gave this feedback:
"It was a joy to learn so much in so little time about something I knew nothing about before, thank you" Gill Jeffries, Herbalife Promoter
"It has made me realise what a true visionary is and the benefits to be gained by doing it right" Chris Jones, Bentley Motors.