Maintaining Customer Feedback Systems.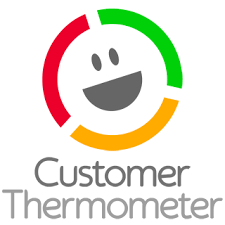 Customer Thermometer offer 1-click email feedback tools which look very simple on the outside, but behind the scenes are anything but. Complex multiple servers, databases and security all need to work seamlessly in order for customers to obtain feedback quickly. We have been part of their team, running and extending these systems since 2015.
Why?
Customer Thermometer required integration with a complex set up of multiple servers, databases, layers of security who all work seamlessly together.
Integration with a large number of big, well-known systems such as Facebook and Salesforce is key to their business. Linking complex systems like Customer Thermometer's into corporate services is vital to their customers, so they can collect feedback in a frictionless way as possible.
How?
Alongside the day to day running and maintenance of their systems, we've built a range of customised reporting systems for their larger clients, enabling Customer Thermometer to offer an extremely flexible and agile service that's been key to powering their growth.
Our custom iPad app allows their customers to collect customer feedback in areas where Wi-Fi couldn't be relied on which improved the service, making the collection of feedback more robust.
The Science Bit...
CT's cloud infrastructure is multiply-redundant and resilient. The architecture is optimised for speed and security, with the main application developed using a lightweight custom PHP framework paired with a javascript-accelerated front-end. Logical separation of data, analysis and presentation enable clean APIs for the Customer Thermometer's growing number of sophisticated clients, and provide a resilient and scalable foundation for the addition of custom code for practically unlimited flexibility of client integration and new feature development.
In addition to the web application, Customer Thermometer's Swift-based native iOS app allows the collection of customer feedback in areas where wifi or data connections are patchy or unreliable. Securely storing feedback in-device, the app syncs seamlessly with Customer Thermometer's reporting systems on network availability.
Results
Initially the project was simply to take over running and developing all their custom software business systems. For a very ambitious company like Customer Thermometer this is imperative. Their new feedback app has been a massive success and business critical. Large organisations such as Facebook, BT, Glossier and Reed Exhibitions are amongst their clients and are continuing to grow and expand their services with our support.
Is your business utterly reliant on internal software systems? Talk to us we can help!
The Rare Earth team have provided invaluable technical guidance and knowledge to support us in our ambitious growth plans. Our custom built feedback app is now being used by millions of people globally within businesses.